This guide serves as a resource to those wishing to learn more about Nelson Mandela's impact, not only within South Africa, but across the world. Above all, it serves as a memorial to his life and accomplishments.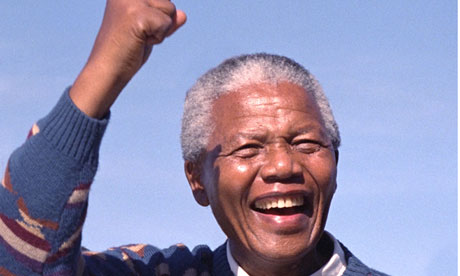 "For to be free is not merely to cast off one's chains, but to live in a way that respects and enhances the freedom of others."
"When a man has done what he considers to be his duty to his people and his country, he can rest in peace."
"It is better to lead from behind and to put others in front, especially when you celebrate victory when nice things occur. You take the front line when there is danger. Then people will appreciate your leadership."

"In my country we go to prison first and then become President."

"I learned that courage was not the absence of fear, but the triumph over it. The brave man is not he who does not feel afraid, but he who conquers that fear."

"Freedom cannot be achieved unless women have been emancipated from all forms of oppression… Our endeavors must be about the liberation of the woman, the emancipation of the man and the liberty of the child."
Who is Nelson Rolihlahla Mandela?
The South African activist and former president Nelson Mandela (1918-2013) helped bring an end to apartheid and has been a global advocate for human rights. A member of the African National Congress party beginning in the 1940s, he was a leader of both peaceful protests and armed resistance against the white minority's oppressive regime in a racially divided South Africa. His actions landed him in prison for nearly three decades and made him the face of the antiapartheid movement both within his country and internationally. Released in 1990, he participated in the eradication of apartheid and in 1994 became the first black president of South Africa, forming a multiethnic government to oversee the country's transition. after retiring from politics in 1999, he remained a devoted champion for peace and social justice in his own nation and around the world until his death in 2013 at the age of 95.
History.com
Apartheid was a system of legal racial separation which dominated the Republic of South Africa from 1948 until 1993, However, the mechanisms of apartheid were set in place long before 1948, and South Africa continues to deal with the repercussions. Under apartheid, various races were separated into different regions, and discrimination against people of color was not only acceptable, but legally entrenched, with whites having priority housing, jobs, education, and political power. Although South Africa was heavily criticized for the system, it was not until 1991 that the legal system of apartheid began to be broken down, and in 1993 was thrown out altogether with the election of Nelson Mandela, the first black democratically elected President of South Africa. The term is also used more generally around the world to refer to systemic racism which is tolerated, rather than confronted.
WiseGeek
Image courtesy of http://www-cs-students.stanford.edu/~cale/cs201/apartheid.hist.html
Social Science and African Studies Bibliographer
This guide was created and managed by Kirstie Yu, with the support of Emilie Songolo. For questions, contact kayu2@wisc.edu.